News from the Nest Summer Edition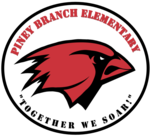 A note from Mr. Thorne and Ms. Sobers . . .
Piney Branch Families,
Next week Piney Branch welcomes it amazing staff back to the building to prepare for our cardinals to take flight!  Our incredible custodian team took this summer to do one of the most impressive deep cleans this building has seen in many years.  We thank them for their hard work and dedication to our school and for making it "so fresh and so clean."  Under the leadership of Ms. Evelyn White, the team including Divina Aparicio, Glenda Coreas, and Sung Wok Han consistently scores perfect and near perfect ratings on site reviews.  Please thank them for their exceptional work if you see them while visiting Piney Branch.  We can't be prouder of their work and thankful for such a perfect environment to welcome our students back with.
We look forward to seeing everyone for next week for supply drop-off.  Please expect an email from your student's teachers by Monday regarding a virtual teacher and class meet and greet.
Steve Thorne and Monica Sobers
Fresh Takes
Security and Crisis ManagementAs we prepare to welcome back our students this year, we want to assure our families that security is our top priority. In addition to our extremely robust Crisis Management plan, we also have the following measures in place to ensure student and staff safety:
Single point of entry: During school hours all exterior doors are locked. All visitors must come to Door 1, ring the bell, and state the nature of their visit to be granted entry.

Visitors must present, provide and leave a valid government photo identification. IDs are cross-referenced with states' sex offender registries. IDs are returned upon exit.

All visitors, staff, and county employees are visibly identifiable by badges that must be worn while on school premises.

All staff receives training annually on Crisis Management

Upgraded HD security cameras throughout the building, all points of entry, and outside
Safety is our number one priority, and all staff is diligent in assuring that students are safe during the school day. Further information about Crisis and Emergency preparedness can be found on the PWCS Crisis Management webpage
Coffee and Conversations with CardinalsThis year our administration will be holding "Coffee and Conversations with Cardinals", an informal chat with our Principal and Assistant Principal on topics of interest to our community.
Our first CCC will be on Friday September 16 at 10:00AM. This session will be held in person, and we will also have a Zoom meeting set up to accommodate any families who wish to participate virtually. This first CCC will be to share more in depth about our Piney Branch safety and security measures and answer questions about Crisis Management.
2022-2023 Bell Times & Bus InformationPiney Branch bell times remain 9:20-4:00.  Kiss n' Ride drop-off will occur at 9:10am. For more information check the PWCS Transportation webpage for updates.
Preliminary bus stop information will be available beginning Monday, August 8, 2022. As enrollments can change up until the first day of school, parents are encouraged to check for any changes prior to the first day of school, which is Monday, August 22, 2022.
Elementary school schedules will be available Tuesday, August 16, 2022, and secondary school schedules, including K-8 and traditional schools, will be available Friday, August 19, 2022. 
Information on how to access The Hub's StudentVUE and ParentVUE applications can be found on The Hub page of the PWCS website.
Availability of Optional Device InsuranceEvery student in PWCS receives a school laptop and families assume liability for the device. Parents/guardians have the option to purchase low-cost student device insurance through the PWCS-approved third-party vendor, Securranty.
Parents/guardians sign up on their own with the following information:
School name

Student last name, first name

Student ID number

Debit/credit card information
If purchased, the insurance covers unlimited repairs or replacements for everything from broken screens, lost chargers, and accidental damage, with a zero deductible for one year on a school-issued HP device. The insurance cost is $32.95, which may be significantly less than repair or replacement costs without insurance.
Contact for questions:
For Good Measure
KG Registration 2022-2023The online registration process for the 2022-23 school year has been open.  Once the registration is processed the registrar will reach out with any missing documentation that is needed and/or an in-person verification appointment.  Proceed to the Registration Process Information webpage to register for the 2022-23 school year.
2022 Vaccination RequirementsThe deadline for students to meet the immunization requirement for mandatory immunizations for public school enrollment is August 19, 2022. If proof of the required immunizations is not provided by August 19, 2022, the student will be excluded from school starting August 22, 2022, until the required immunization documentation has been provided to the school. If you have questions, please contact the school nurse or visit the immunization requirements webpage.
School Breakfast & LunchIn 2022-2023, students will again pay for lunch and breakfast.  Lunch will cost students $2.50 and breakfast will cost $1.50.  Families are reminded to apply for free and reduced lunch if required.  The application will be available on the Nutritional Services website. If you need assistance with the application, please contact our Cafeteria Manager, Mayra Merida, at 571-261-5030.
Teacher Assignments, Meet Your Class, and Supply Drop-OffWe know everyone eagerly awaits teacher assignments and beginning of school activities.  Our work throughout the summer leads to our ability to roll-out the red carpet.  Please see the following anticipated dates and events schedule.  We appreciate your understanding that these activities and dates are tentative.  Stay tuned for future dates that are firmer.
Teacher Assignment Postcards – around August 13

Teacher Assignments visible in ParentVue – week of Aug. 15

Virtual Class Meet & Greet – early week of Aug. 15

New Student Orientation & Supply Drop (Grades 1-5) – Aug 18 – 11am

Supply Drop Off (KG-5th Grade) – Aug 18

Last Names – A-C 12:00pm

Last Names – D-H 12:40pm

Last Names – I-M 1:20pm

Last Names N-S 2:00pm

Last Names T-Z 2:40pm

Back to School Nights (students attend)

K-2 - October 17 (open house format 6:00-7:30pm)

3-5 – October 18 (open house format 6:00-7:30pm)
Health Treatment Plans & Medication DropoffStudents requiring health treatment plans and medication while at school should plan to make arrangements with Nurse Denise beginning August 15.
Online Tutoring Available to all PWCS Students Free of ChargePWCS has partnered with Paper to provide K-12 students with unlimited tutoring, 7 days a week—at no cost to families. Students can get help with their homework, receive feedback on their writing assignments, or ask questions about any academic subject. Experts are available to assist students with any subject or content area via a secure, chat-based platform.  Tutors are currently available to help students in English, Spanish, French, and Mandarin.
Mark Your Calendar/Upcoming Events
August 18th – 11am – New Student Orientation (Grades 1-5)
August 18th – Supply Dropoff (KG – 5th Grade)
August 22nd – First Day of School

September 2-5 – No School

September 9th – Free Movie Night (arrive at 6:30 p.m./movie starts at 7:15)
September 26th – No School
October 5th – No School
October 10th – No School
October 17th – Back to School Night (K-2 Open House Format)
October 18th – Back to School Night (3-5 Open House Format)
October 31st – No School – Conference Day
PTO Events
PTO Movie NightSave the Date!!  Friday, Sept, 9th PTO will be hosting a Free Movie Night showing "Sing 2" which will take place outdoors.  Arrive at 6:30 p.m.; movie starts at 7:15 p.m.  Bring our chairs and blankets.  Spirit Wear will be available for purchase.  There will be also be Nothing Bundt Cakes, Pizza (pre-orders) and much more!!  All proceeds will go to support Piney Branch & the PTO.